Step 5: Closing the Investment
Dennis Crowley
By, Dennis Crowley & Kellen Sizemore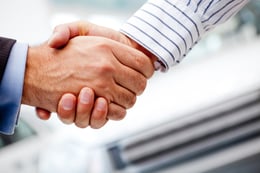 After relying on time-consuming and paper intensive manual methods for decades, the alternative investment industry is experiencing a reboot! Those raising capital, investors, and allocators are embracing data-driven technology to streamline the process. The advent of deal flow seekers expecting automated, user-friendly, and streamlined alternative investment platforms, such as Trellis has already begun. This is an exciting moment for all parties as these technology solutions reduce standard barriers to accessing information while ensuring a great investor experience for signing NDAs, processing KYC, and completing subscription documents. This technological enhancement can eliminate the traditional back-and-forth communication process, freeing up time for everyone involved.
With the advancement of technology, both those raising and investing capital can expand their geographical reach and participate in a virtual community. But that is only one part of the challenge facing both parties that technology addresses. Once an interest in the investment opportunity arises, the process from diligence to investment begins. Any delay or obstacle in the process can easily turn an investor away, driving them to the next opportunity where the process may be more streamlined. Some of the most significant benefits of technology in the private investment process are:
"Working Smarter Not Harder": How does this saying apply to private investing you ask? Capital seekers work smarter by creating one cohesive investor presentation that allows potential investors to do the same by easily accessing pitch decks and data room as a part of a self-guided journey.
Focused Management

: One of the great challenges of raising capital is finding the answers to who, what, where and when. Receiving a response is usually a positive sign, but if the investor isn't diving deeper, it is probably not a good use of managements resources. Technology allows capital raisers to track activity and focus resources on the most serious investor.
Enhanced Accuracy and Accessibility: Using technology to manage investment documentation and closing processes reduces the risk of errors caused by lost or misfiled documents. Additionally, electronic documents can be easily edited, updated, and shared ensuring that all information is up-to-date and accurate.
Enhanced Security: Technology also improves the security of investment documentation and closing processes, including KYC/AML. Electronic documents can be collected and secured behind passwords, encryption, and other security measures to protect sensitive information. Additionally, electronic documents can be easily backed up and stored off-site, ensuring that important information is not lost in the event of a disaster.
Reduced Costs: Finally, using technology to manage investment documentation and closing processes can also reduce costs.

The use of digital signatures and electronic documents

can reduce legal expenses, while also eliminating the need for printing, shipping, and storing paper documents.
Embracing technology dramatically simplifies the documentation process for the private equity industry, saving everyone time and money. With technology like the Trellis Platform, investors can now perform due diligence by looking at opportunities from a bird's eye view and dig deeper if it's one of interest.

In conclusion, technology has revolutionized the way investment documentation and closing processes are managed. By streamlining these processes, technology saves time, increases accuracy, enhances accessibility, improves security, and reduces costs, making it an invaluable tool for investment firms and investors alike.