How FinTech Platforms Are Addressing the Challenges of Deal Fatigue
Kellen Sizemore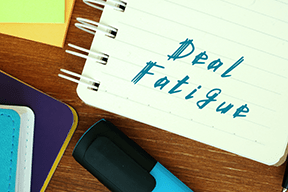 Deal fatigue is a common phenomenon for intermediaries as they navigate the venture selection process. Fintech SaaS (Software as a Service) platforms address the challenges of deal fatigue by providing innovative solutions to simplify a complex process.
The innovative solutions are user-friendly, so even the most novice intermediary can utilize the solutions to reduce deal fatigue. FinTech platforms introduce the review portal that houses a variety of solutions, such as:
Deal sourcing strategy

Data driven approach

Digital roadshow
"In the mountains, fatigue is the biggest controllable limitation that will come between you and success." ~ Steve House
The traditional deal sourcing strategy is a slow and lengthy manual process. Technology automates the deal sourcing strategy, which allows users to easily access information with the click of a button. Within seconds, the intermediary can invite other parties from their network to review the opportunity. The innovative solutions provided by SaaS platforms house all the information in one central portal, instead of requiring access to multiple programs. Instead of the traditional 3-4 different programs used to access information, everything is combined into one user-friendly portal, saving company resources. Traditionally, when there is a high volume of deals for review, it is a lengthy manual process to access all the information required to make an investment decision as it slowly trickles in, which leads us to the next solution - a data driven approach.
A data driven approach provides intermediaries and their network with a diligence-ready opportunity in which the intermediary spends less time waiting for information and can access all the information necessary to make an investment decision from the get-go. This saves resources, reduces confusion, and streamlines a lengthy/complex process. With this solution, intermediaries can move through the venture selection process with more ease and precision than ever before, which results in less deal fatigue and more progress. But what is this data worth without being organized? Often, we find that every capital seeker has their own organization system for their diligence-ready opportunity. The information is there somewhere, however, it is time consuming and feels like looking for a needle in a haystack.
The simple consistent layout of the digital roadshow solution addresses the challenge of each opportunity by providing a separate layout and housing information in various locations. These challenges result in an inefficient use of valuable resources that are already stretched thin. This solution provides users with the ability to easily compare opportunities with key information that is always located in the same spot across multiple opportunities. The information changes from opportunity to opportunity, but the layout remains the same. With this solution, intermediaries spend less time searching for key pieces of information, which opens the door to better diligence opportunities.
"If you always do what you've always done, you'll always get what you've always got." ― Henry Ford.
These solutions are making waves in the alternative investments industry by:
Reducing the average time to perform due diligence

Allowing intermediaries to better allocate resources

Reducing redundancies

Providing easier access

Keeping all participants up-to-date
Whether you are a capital or deal-flow seeker, Trellis solutions can help you reach your goals. For more information on how the Trellis team can help you, contact us at dcrowley@trellisplatform.com.